Phosphate index extended with lease price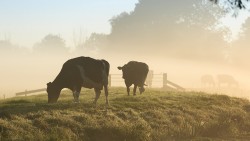 DCA-Markets will start from 1 December 2020 to list a price for the lease of phosphate rights. A phosphate right stands, as defined by De Rijksdienst voor Ondernemend Nederland (RVO.nl), for one kilo of phosphate produced by indicated cows and calves.
Under European agreements, the Netherlands is obliged to limit phosphate emissions in the agricultural sector, so that the phosphate ceiling is no longer exceeded. Since 1 January 2018, no more cows may be kept on dairy farms than the number of phosphate rights allocated to the company by the government at the time. The rights were allocated on the basis of the farmers' dairy herd on 2 July 2015.
Phosphate rights can be transferred to another entrepreneur. There has been a brisk trade in those rights and more and more dairy farmers conclude lease transactions to compensate a temporary shortage or surplus of phosphate rights.
At the request of the market, DCA-Markets has decided to make a listing for the lease of phosphate rights. The price listed is the price a buyer has paid to lease phosphate rights for the running year or the price a seller has received. This during the period from Wednesday 16:00 in the previous week to Wednesday 16:00 in the current week.
The price is in euro per kilogram rounded to 0,50€ and delivery takes place via standard RVO forms.
By default the price is set on Thursday and published at 4:30 pm. The first official publication will be on December 3, 2020.
Are you curious how we as DCA-Markets approach and guide the above? Or would you like to the discuss the opportunities in using benchmarks in your "supply chain". Then call 0320 269 523 or email
contact@dca-markets.com.